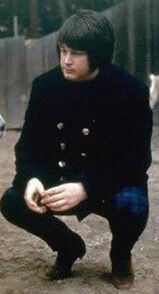 Brian Douglas Wilson (born June 20, 1942 in Inglewood, California) was one of the founding members of
The Beach Boys, and the genius behind most of the classic Beach Boys songs.Brian Wilson was born on June 20, 1942. He is best known for being the leader of The Beach Boys, he wrote songs and produced songs. He did several lead vocals, and had(and still has[for being 70]), a sweet falsetto voice. In his early career, he played bass, and did several harmonies. He then moved the piano and more vocals, and once they fired Murry he became the main producer. They had several hits, that were mostly about surfing, cars, or girls, some were Surfin' USA, Surfer Girl, Fun, Fun, Fun, Help Me Rhonda, and Good Vibrations.
Brian became more into the music, and created Pet Sounds in the mid 1960s, and it was one of the best albums ever. The album that was supposed to be after it was SMiLE, a great concept album, and a great album for musicians. It was stopped because of Brian's mental health issues. The band was very disorganized, and they began to fall apart, as did Brian. In 2004 Brian finished SMiLE and regained his health, he also won a grammy for Mrs. O'Leary's Cow. 
Early Years- Brian was born in Inglewood, California. His parents were Murry and Audree Wilson. He had two younger brothers Dennis(middle), and Carl(youngest), who came when Brian was two. The Wilson's then moved to Hawthorne, California. 
Murry noticed how musical Brian was when he was very young(about one), and he repeated melodies very easily. When Murry had Brian on his shoulders, he was singing When the Cassions Go Rolling Along, Brian could repeat the melody when he was one. Murry said, "He was very clever and quick, I just fell in love with him" 
When Brian was two, he heard Rhapsody in Blue, and it really had a huge impact on him, emotionally, and with his musical abilities. Later, it was discovered that Brian was deaf in his right ear, and it is because he was born deaf, but his father increased it with his abuse. 
Murry was very abusive. It seemed he was a frustrated songwriter, and he did have musical talent, but he was very happy yet angry that Brian was talented. Murry grew up with an abusive father, and Murry was also drunk. He gave Brian lessons at the toy accordion. Brian says that his father what pushed him. Brian was very athletic, he was a quarterback and he was on the baseball team, he sang in churches, and played piano after school. He also would deconstruct Four Freshmen songs. 
The Pendletones- Brian went El Camino College and majored in psychology in September 1960. He also continued studying music. 
Him, his brothers(Carl and Dennis), his cousin(Mike Love), and Al Jardine(a close friend started The Pendletones, and Dennis gave the idea of doing surfing music(he was also the only real surfer of the group). Their first single, Surfin' became a hit! They then rented some instruments, and Al Jardine helped with finances. Murry knew their was potential with the group, and he wanted to push them forward. But Candix changed the name to The Beach Boys. 
Artistic Growth- Brian used unique usage of harmonies and instuments, making his own type of music. He then tried to grow the band with bigger songs than just surfing music. There is more to this section, but it would be too long, and I would get carried away, so if you want to edit it, you can. 
Marilyn- Marilyn grew to love Brian, she tried to love Carl, but resorted to Brian. When they first met she was 14, Brian asked for a sip of her hot chocolate, and Brian accidentaly spilled some on her, maybe that was his first move.... If you watch certain videos of The Beach Boys live, you can see Marilyn, and I believe that was when they met. Two years later they met again and were totally in love! They got married when she was 16. There is more, but that will come throughout the other sections, I also think Brian may have had an affair with Diane, maybe because Diane loved him and liked that idea. 
 SMiLE- Brian called up Van Dyke Parks for lyrics, for the original idea Dumb Angel. He became addicted to drugs, and the members The Beach Boys (especially Mike) wanted to shelf it. His mental health issues caused him to shelve SMiLE. He had paranoia issues, and schizoaffective disorder. He had two kids with Marilyn, Wendy and Carnie, and Marilyn felt like it wasn't quite safe, so she called a divorce in 1980. 
Later on in 1995, he married Melinda Ledbetter, and she helped him through his drugs and mental health issues. He released SMiLE in 2004 with his band. 
He also has made other albums like Brian Wilson reimagines Gershwin, and That Lucky Old Sun. 
Go here for more info- en.wikipedia.org/wiki/Brian_Douglas_Wilson 
Ad blocker interference detected!
Wikia is a free-to-use site that makes money from advertising. We have a modified experience for viewers using ad blockers

Wikia is not accessible if you've made further modifications. Remove the custom ad blocker rule(s) and the page will load as expected.