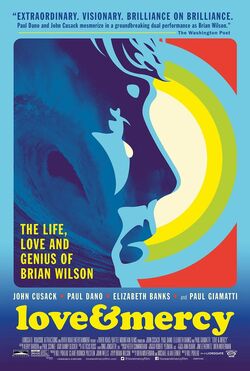 Love & Mercy
is a 2014 American biographical film directed by Bill Pohlad, featuring the musician and leader of the Beach Boys, Brian Wilson. The film, named after Wilson's eponymous 1988 song, is presented in a dual narrative covering two specific time periods in Wilson's life: the 1960s and the 1980s. Actors Paul Dano and John Cusack depict the young and middle-aged Wilson. Elizabeth Banks portrays Wilson's second wife, Melinda, and Paul Giamatti portay's Wilson's psychotherapist Dr. Eugene Landy. Love & Mercy was distributed internationally by Lions Gate Entertainment and in the United States by Roadside Attractions, beginning June 5, 2015.
In the 1960s, young songwriter and recording savant Brian Wilson (Paul Dano) finds himself in the midst of extraordinary success after scoring numerous hit records with The Beach Boys. Following a panic attack, he resigns from concert touring and ventures into the studio intent on creating "the greatest album ever made", Pet Sounds. Meanwhile, his grip on reality slowly loosens as he attempts to cope with the overwhelming voices in his head. Later, in the 1980s, a middle-aged Wilson is shown to be a broken, confused man under the pharmacological and legal thrall of therapist Dr. Eugene Landy. After meeting Wilson, Cadillac saleswoman Melinda Ledbetter is determined to save him from Landy's manipulation.
John Cusack as Brian Wilson (Future)
Paul Dano as Brian Wilson (Past)
Elizabeth Banks as Melinda Ledbetter
Paul Giamatti as Dr. Eugene Landy
Jake Abel as Mike Love
Bill Camp as Murry Wilson
Brett Davern as Carl Wilson
Kenny Wormald as Dennis Wilson
Erin Darke as Marilyn Wilson
Mark Linett as Chuck Britz
Johnny Sneed as Hal Blaine
Teresa Cowles as Carol Kaye
Graham Rogers as Al Jardine
Max Schneider as Van Dyke Parks
Ad blocker interference detected!
Wikia is a free-to-use site that makes money from advertising. We have a modified experience for viewers using ad blockers

Wikia is not accessible if you've made further modifications. Remove the custom ad blocker rule(s) and the page will load as expected.